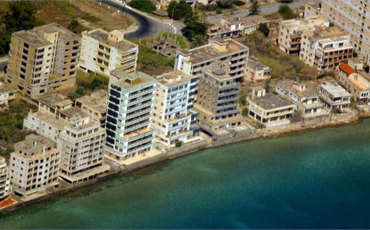 The group of civil organizations of Northern Cyprus are preparing a letter to the UN concerning the closed city of Maras.
"Ghost Town" in the suburb of Famagusta, Varosha or Marash , has recently become a topic of discussion on both sides of the Green Line. The leader of the Greek Cypriot Nicos Anastasiades put forward a proposal of returning Maras to "its rightful owners", in exchange for opening the port of Famagusta to international trade for both countries of Cyprus. But the Turkish Cypriot side insists that the theme of Marash should be part of an overall settlement of the Cyprus problem.
Last week, a conference was held in the capital city of Northern Cyprus, Lefkosa, attended by 30 civil society organizations. The topic of discussion was the land of Marash, 4,638 dunums of which belonged to different institutions and has been translated incorrectly in the possession of the Greek Cypriots during the British colonial rule of the island. The letter, which will contain evidence of the above, will be delivered to the United Nations within several weeks.


643
21.09.2013
Share on social networks: