Consulting a qualified and impartial lawyer is one of the most important things when purchasing a property abroad. Like in any other country, hiring a lawyer to deal with all property documents is also essential in Northern Cyprus. In the TRNC, lawyers are official representatives of the state. Despite the fact that there are no special requirements for the mandatory use of a lawyer in North Cyprus, without professional legal guidance it will be very difficult to purchase a real estate.
In addition to verifying all the documents of your chosen property, your lawyer on your behalf conducts the registration of property in various government agencies, pays the required taxes, submits documents to the Ministry for the transferring the property in your name to get full rights to own property and can easily migrate to North Cyprus. After registration of the documents in the Land Registry, the buyer receives the sole ownership of the property and receives all rights to use the property. Once the contract is registered, the property cannot be leased, sold, transferred to another name or laid in pledge by anyone except the owner. This procedure protects the rights of the property owner prior to issuance of the full ownership of the property at the owner's name (title deeds). Our company will offer you a number of distinguished lawyers in the TRNC, with whom we have successfully cooperated for a long time.
Property Laws in North Cyprus
For foreign nationals there are no restrictions on property ownership, except the right to get more than one property for one person or family (married couples also have the right to purchase only one property in North Cyprus). In accordance with the Law on Property of the Turkish Republic of Northern Cyprus, buying property for foreigners is limited to one donum of land (1338 sq.m.), or a property in North Cyprus, located on the plot of no more than one donum of land. There is no limit to the amount of property and land in Northern Cyprus, which may be purchased by local companies registered in the TRNC. Investors or individuals wishing to purchase more than one property (land) in the territory of Northern Cyprus, should consider a trust Company, which allows an unlimited number of real estate ownership in the country.
Title Deeds in North Cyprus
Until the transfer of Title Deeds of the property is completed, the owner's rights are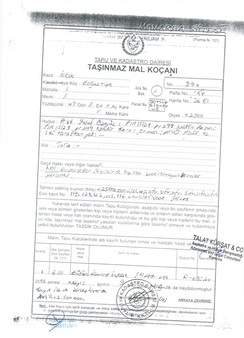 protected by the existing and registered contract, signed by the representatives of Land registry. The Title deeds are transfered to the name of the new owner only after the full amount of the asking price has been paid. If the acquired property is newly built, then the issue of title deeds may be delayed until full completion of the object or the development it is situated in. The VAT for the ownership of property is being paid upon receiving of the title deeds and is currently equal to 3 % of the purchase price.
Read the article Title Deeds in North Cyprus