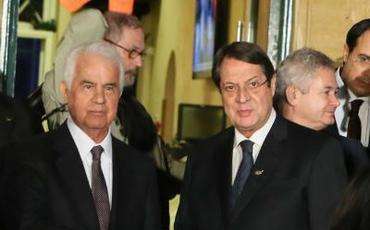 Both presidents of Cyprus will be invited to New York to meet with UN's secretary general Ban Ki-Moon to finally agree on joint statement, the necessary precondition for resumption of peace talks. According to UN's source, special adviser Alexander Downer will visit Cyprus on Sunday with a new plan of action aimed at the start of negotiations.
North and South side of Cyprus, delay peace talks due to the inability to agree on a joint statement, which Greek side insists upon.
It is expected that Mr Downer will arrive in Cyprus on Sunday with a new simplified version of the joint statement, which will be presented to the leaders of Cyprus and if approved by leaders the peace talk will start.
According to the source, Ban Ki-Moon is waiting what will be the results of Mr Downer's visit to Cyprus, and in the case of no progress, Secretary General will be forced to invite the presidents to New York.
" Secretary General will invite Dervis Eroglu and Nikos Anastasiades to New York, and together they will write a joint statement "- says the source .
Invitation to New York was one of the options proposed by Mr Downer to both presidents during his December visit to Cyprus. Other options were the resumption of negotiations with a brief joint statement, the start of negotiations without the statement and a break from the process for 3-4 months.


521
08.01.2014
Share on social networks: