Three-room apartments in the "Garden of Eden" complex, invest in the best
Number : S-YENI-B- 07
special offer, discount!
S-YENI-B- 07
183 000.0 £
Currency
Type: Apartment
Deal: Sale
Market: New property
Area: 70.0m2
Bedrooms: 2
Request details
Information Object on the map
Description
Enjoy the best time of your life with this brand new private residence, where buyers and guests will enjoy the finest hotel-style amenities including communal swimming pools, manicured gardens within the complex, a spa with Turkish hammam, gym and restaurants... In addition to 5-star facilities, the south-east coast is just a few minutes' walk away, where you will find several fine fish restaurants that many clients from all over Northern Cyprus come to visit for their fine cuisine. In just a few minutes you will reach the stunning sandy beaches of Long Beach, where you will be deservedly spoiled by a variety of restaurants/bars, cafes and a disco bar.
The residence itself offers 4 apartment blocks in a gated complex, offering 140 apartments of varying styles, including amazing spacious studios, 1 bedroom and 2 bedroom apartments, ideal for those looking to purchase an apartment to rent out, or to use as a second home . Italian ceremonial style and comfort positively distinguish this complex from others built in traditional Cypriot styles.
Apartments 2+1 (three rooms) - closed area 70 sq.m.
Specification
Specification
Specifications:
Location - In Yenibogazici area
1 km from the sea.
4 blocks - total 140 apartments
Apartment 2+1, 70 sq.m.
2 restaurants
800 sq.m. - pool
A fitness center,
SPA,
Sauna, massage rooms
Indoor pool
Payment Plan
Payment Plan
Deposit: £5,000
Down payment 40%
Installment plan: 60 months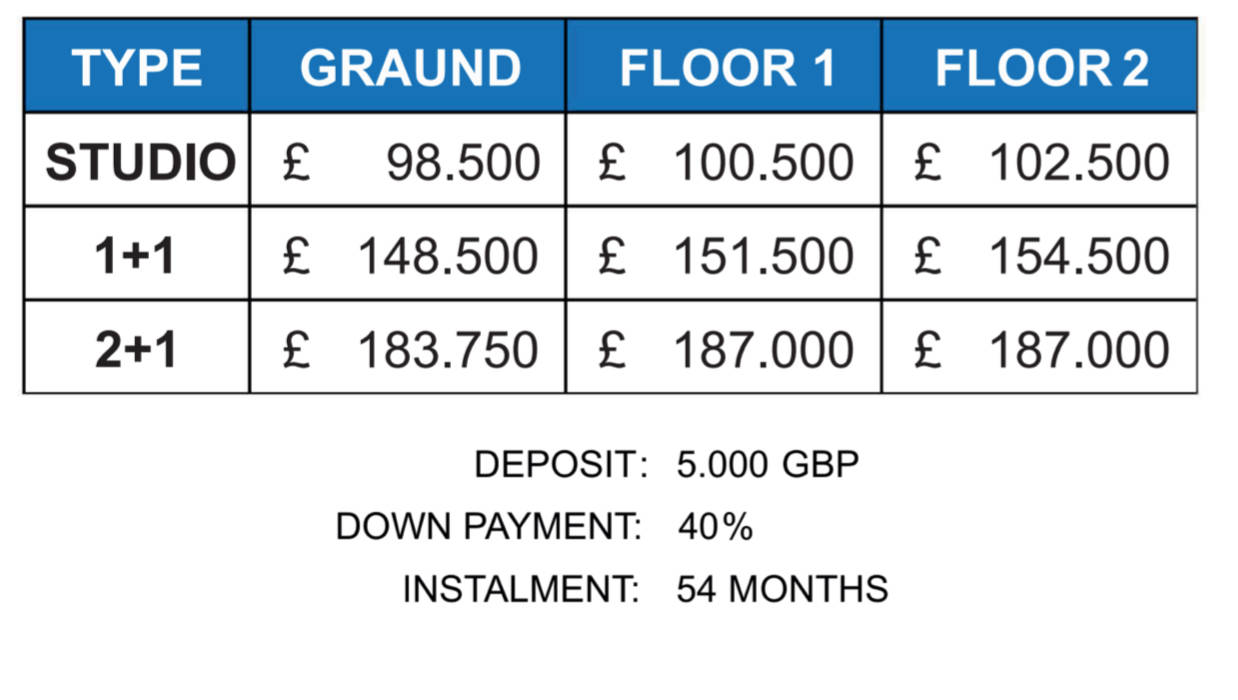 ---
Interested in the property?
The best and only way to buy property in North Cyprus is to book inspection trip