Two-room apartments in a luxury complex by the sea, all the infrastructure for recreation, for life!
Number : s-isk-37
hot offer!
S-ISK-37
145 000.0 £
Currency
Type: Apartment
Deal: Sale
Market: New property
Area: 60.0m2
Bedrooms: 1
Request details
Information Object on the map
Description
We are pleased to bring to your attention this new apartment complex, designed according to Italian design. The gated complex is located in the prestigious area of ​​Long Beach, where there is everything you need for life or recreation. Nine ten-story residential blocks surrounded by artificial rivers, on which you can ride on gondolas; In addition, the complex provides all the necessary infrastructure from a supermarket to a spa salon, cafes and restaurants.
Don't miss your chance, reserve an apartment in the process of initial construction at the best prices!
Each block offers apartments (9 per floor) of different layouts - studios, 1 + 1, 2 + 1. On the upper floors - penthouses.
One bedroom apartments
Living room and open plan kitchen
Bedroom
area 60 sq.m.
terrace 10 meters
Specification
Complex services
- swimming pool 400 sq.m
- aquapark
- playgrounds
- sports grounds (basketball field, tennis court, football field)
- supermarkets
- clothing stores
- cafes and restaurants
- parking spaces: ground and underground
- cinema
- pharmacy
- transfer from the complex to the sea and the casino
- the territory of the complex is guarded
Full completion of construction in 2027.
Payment Plan
Payment
Without interest installments for the first 3 blocks - 3 years, from 4-6 block - 4-5 years, 7 + 9 block - 6-7
Deposit 5000 (dollar, euro, sterling)
Down payment 35%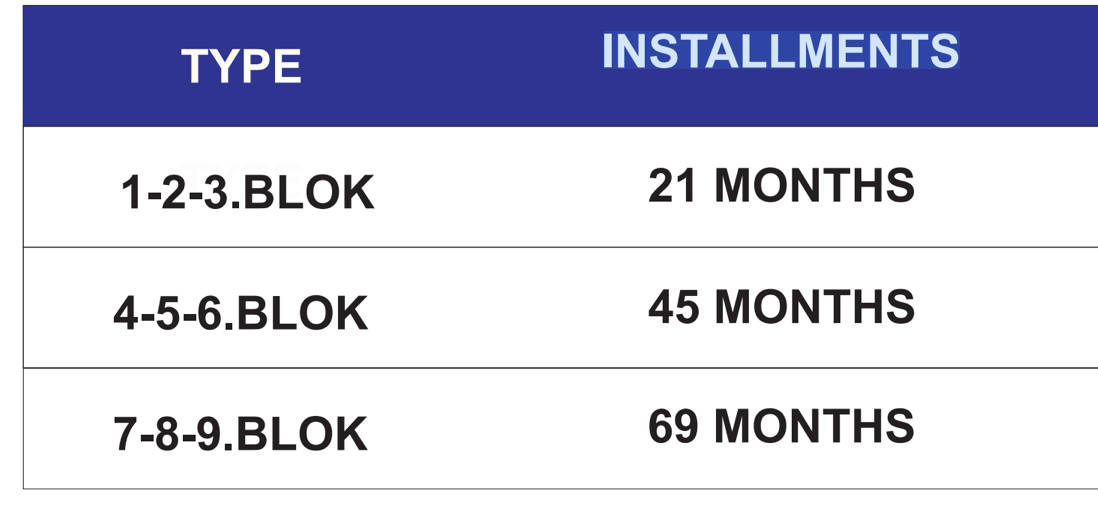 ---
Interested in the property?
The best and only way to buy property in North Cyprus is to book inspection trip
Similar offers
Area 50.0
Bedrooms studio